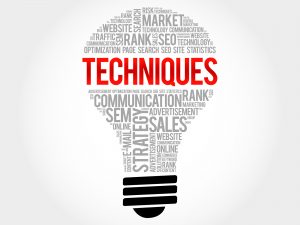 I'm always asked for my ideas on what sales coaching techniques to use in different situations. Sometimes it's how to deal with under performers and others it's how to develop the best of the best.
If you're a Sales Manager or a Sales Coach then I've got a couple of golden nugget coaching techniques for you to use with your sales teams that we cover on our Sales Management Training.
And if you're not a manager you can use these techniques equally well – you'll just need to self-coach!
Sales Coaching Technique # 1
Self Assessment
After you have made a prospecting call or have just visited a prospect/client ask yourself:
"How did that go on a scale of 1 to 10 where 10 is the best possible outcome?"
Rate yourself honestly with no fudging!
What we're doing here is critically evaluating your performance.
Here's why…
Now if you gave yourself a 7 for example, ask yourself:
"What could I have done to have made it an 8 or a 9?"
By evaluating your performance in this way you will make small incremental steps and will improve over time.
By improving from a 7 to an 8 might just take 1 or 2 things. To jump to a 10 might seem too big a jump!
Sales Coaching Technique # 2
Never Leave A Coaching Session Without Action!
So many coaching sessions die a death at the end.
The Sales Manager and rep have a good chat but then nothing comes of it!
Don't fall into this trap.
Instead, always ask your sales person to summarise the key points made during the coaching session. Never do this yourself.
Here's why…
By doing this you train your sales team to really listen in because if they know they have got to summarise the discussion then they will be all ears believe me!
Also, never leave the room without agreeing a set of actions of who is going to do what and when. Have specific dates, have specific actions and follow through on them during the next time you review them.
So, carry out these two Sales Coaching techniques and you will see further improvements in your sales performance.
Happy Coaching!
Sean

Sean McPheat
Managing Director
MTD Sales Training | Image courtesy of Big Stock Photo