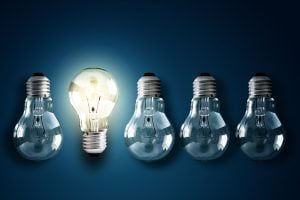 Brand is often described as 'a variety of something distinguished by some distinctive characteristic'.
Apple's brand, for instance, is characterised by the statement 'Think Different'.
It creates a label in people's mind that attracts them and builds trust in the product or services.
No matter what your brand is, you can make it stand out against competitors by putting the emphasis on what differentiates you.
If you're not differentiated in some way, you quickly become a commodity, and the biggest differentiator then will be your price.
So, unless you're the cheapest on the market, you had better be looking at your brand to build your value.
And if you are the cheapest, then brand probably isn't that important to you!
Here are some ways to appeal to buyers through your brand:
Focus
What are two or three words that define your brand?
Go beyond 'quality' 'service' and 'guarantees' on this one.
There must be something that makes you stand out, just like Apple does with its slogan.
Feelings & Emotions
Describe what you would like people to feel about your brand.
For example, Harley-Davidson wants people to feel independent and free.
How would you like people to feel about your brand when they consider you?
Individuality
Here, we are talking about uniqueness and distinctiveness.
It gives you a personality and emotional connection.
What personality do people attach to your brands?
If it was a celebrity, who would it be like?
Consistency
If your brand only delivers its promise every once in a while, people will begin to mistrust it.
You have to engage people on a regular basis.
Whenever people come across your brand, is there a consistency of approach?
Will they get the same message, no matter who in your company they speak to?
Credibility
This means aligning the brand with experiences.
If there is an incongruence between what you talk about and what you provide, there will not be the trust that's required to gain the emotional impact of a true brand.
Longevity
What are you doing to make sure your brand stands the test of time?
Most brands don't make it past five years, so if you want to ensure you are around for some time, the essence of the brand has to hit home with consumers and make them feel they have some sort of connection with you.
Portable
Is the brand transportable across networks?
Does it market well on mobile devices?
This will epitomise a strong brand as it acts consistently in its marketing approach.
Remember, you are a brand as well, so think about how your brand essence can be driven by paying attention to the above ideas.
If your brand is something that you want to differentiate from the competition, put these points into action and measure its effectiveness with your loyal customers.
Happy Selling!
Sean

Sean McPheat
Managing Director
MTD Sales Training | Image courtesy of Dollarphotoclub