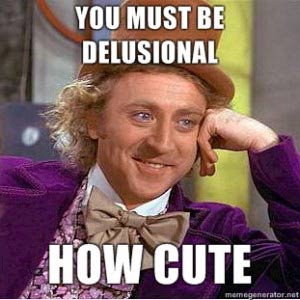 "What?! Work in a straight, commission only position? Are you nuts?"
"On commission only, it's one week you got it, one week you don't."
"Commission only is more about luck…"
"With a commission only…YOU CAN WRITE YOUR OWN PAY CHEQUE AND BE YOUR OWN BOSS!"
You have heard all of these sentiments before and the question arises as to exactly what is correct? Is it insane to work commission only in this today's modern, post boiler-room era? Or is a straight commission still a realistic and viable option in this day of the sophisticated consultative sales professional?
The Good and The Bad
To the question, do commission only job positions still make sense in today's modern era of professional selling, the answer is YES…and NO. The truth is that in some cases commission only is a good thing, and in others it could be a horrible thing. The trick is to know the difference. So allow me to slightly depart from the norm as I give you my take on this.
The Difference
The difference is a commission only position is often still the best way to reap the largest pay-offs and tap an unlimited earning potential. However, today there are many sales organisations out there that cannot deliver what they promise. While some sales companies simply do not understand that their sales numbers and the science of what they do, does not add up; others deliberately USE and ABUSE innocent, unsuspecting sales people for profit.
Let's face it, besides one-day-would-be actors and actresses, inexperienced sales people are the most exploited group of employees in the world. The key is to know when you are being told the truth or when you are being sold a line of poppycock.
Keep in mind the following 5 key points when considering a commission only position.
#1: A Proven Sales Process
First make sure the company already has a PROVEN and DOCUMENTED sales process that works. The firm should be able to show you a plan of action that if followed, will result in success. In other words, if you do exactly A, B and C, you will make sales. Then be sure they can produce someone who has personally done exactly that.
#2: The Numbers Add Up
Once you have a step-by-step sales process, then calculate the numbers, the science and data and make sure it all adds up. As an example, let's say they told you that 40 cold calls, on average, will result in 10 appointments, and 10 appointments will give you two sales. So you run 10 appointments and close 2 sales every day. They said that the two sales average yields are £125 each in commission. Therefore, the perspective is that if you follow the plan, you will EARN £1,250 per week. Ok, sounds good.
However, as you begin to add up the numbers, you note that the average sales presentation is nearly 1 ½ hours long. If you close the sale, it is closer to 2 ½ hours. Add in travel time between appointments, prospecting time and other sales activities, and you find that there is not enough time in a day to possibly run 10 appointments. In fact, you would be hard pressed to complete 5 appointments in a single day, resulting in a weekly income of closer to £400 to £600.
Also, figure how long it will take for the money to actually begin to come in. How long after the sale do you get paid? How long does it take to end up as cash in your pocket? What problems can arise after the close that can kill the sale? Figure out how long it will take before you begin to earn money. Then figure out if you can afford to wait that long without an income.
#3: Pre Sales Support
Adding to those numbers above is the amount of pre-sales support the organisation affords. Is there an active and effective marketing campaign that will precede you? Does the company have a professional quality web site and sales literature? How is the company's professional reputation in the marketplace? Take into consideration the amount of pre-selling you may have to do yourself and the time it will require, if these things are not in place.
#4: Post Sales Support
Likewise, figure into the equation how much time you may have to spend on post sales support and follow up. Does the company provide for customer service or is that you? Do you have to handle all of the paper work, financing, set up and installation? When a customer has a problem, do they call the office or you? Think about it; if you have to handle customer service as well as sell, how much less time do you have to sell? And you will only get paid for when you sell.
#5: The Product or Service
Finally, and perhaps the most important thing to think about when considering a commission only job, is that you truly believe in and trust the product or service that you sell. Selling anything that you are not honestly enthusiastic about is not a good idea. However, working on a straight commission strictly for the money is a catastrophic mistake.
This tip also goes out to those in management and hiring positions for companies who believe that gathering a bunch of unsuspecting rookies, promising them the world, and then throwing them to the wolves on a commission only basis, is the cheapest and most risk-free way to go. The fact is that this scenario often creates people who are out there representing your product and name, and they are desperate.
The situation creates sales people who are at the point where they are willing to say and do almost anything to close a sale. This can and always will cost your firm far more than the small base salary you could have given up.
Conclusion
So, does working on a commission only basis still make sense today? Not when dealing with a company that does not have the proper foundation, history and infrastructure to offer a direct commission. Such companies basically want you to TEST MARKET their products for them, at YOUR EXPENSE.
However, for a company that has the foundation of an established and successful sales process, exceptional pre and post sales support, and a great product or service, a direct commission compensation plan could literally make you rich.
Happy Selling!
Sean

Sean McPheat
Managing Director
MTD Sales Training | Image courtesy of Marlith at FreeDigitalPhotos.net