It is easy to spend a small fortune on sales contests and incentive programs designed to motivate, stimulate and reinvigorate the sales team. However, you may have found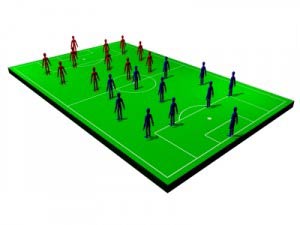 that such programs meant to motive, can end up having the reverse affect and deflate, berate and de-motivate instead.
Sometimes the problem is not the structure of the contest in itself, but the manner in which you set up the playing ground.
The Starting Line
When designing a competitive sales contest, you have to take into consideration the starting point of each individual sales person. By that, I mean that you have to consider the experience, skills, closing averages and client-base of each sales person to design a contest that is equitable.
If you base the contest purely on bottom-line closed sales, then sales people who have more experience and clients, from whom they can get referrals, have an unfair advantage over newer, less experienced team members.
Over Before It Starts
For many of those less experienced sales people, such a disadvantage can seem insurmountable. When this happens, it creates a situation where some sales team members do not attempt to win or even compete in the contest. In fact, they feel shunned which causes an anti-productive mentality. Simultaneously, due to the lax competition, the top sales people also operate at less than peek performance.
A Handicapping System
Come up with a method to make all sales people equal, for the purposes of the contest. Perhaps you consider the closing averages of each sales person and design the contest so that those with a lower closing percentage can compete.
As an example, for the sales person who has a 20% closing average, perhaps to win or place high in the contest, they have to close 4 sales.
Then, for the sales rep with a higher closing average, like 25%; perhaps he or she must close 5 sales to place in the same bracket.
A Win Win
With such a method, both levels of sales people compete hard, and get better. The sales person with the 20% closing average would have to complete 20 sales presentations or closing attempt to get the 4 sales.
However, the sales person with the higher closing rate of 25% would also have to complete 20 closing attempts!
This creates an incentive for all sales people to put forth a greater effort regardless of their skill level. In addition, it gives the newer sales people an equal opportunity if they work hard enough.
One Step Further
If you decide to use such a system for the long term, then also create a bonus system, award or incentive to give to the sales people who maintain the lowest handicap.
Level the playing field with a handicap system and watch more sales people come in under par!
Happy Selling!
Sean

Sean McPheat
Managing Director
MTD Sales Training | Image courtesy of Salvatore Vuono at FreeDigitalPhotos.net