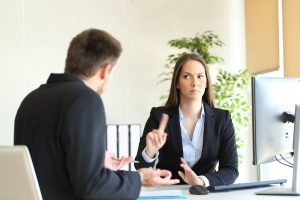 Have you ever interviewed someone who comes across as having all the skills you need to be successful for your company?
Did their CV have all the qualities you want?
Were the answers they gave to your questions good enough to give you confidence in their abilities?
So, you employed them and they started with a flourish, building their knowledge of your products and services and getting some sales.
But they seem to have problems driving through the harder sales.
Their objection-handling skills and closing abilities seem to be lacking.
And you end up wondering if you could have determined these needs a little earlier.
Well, there is a specific way you can identify if a salesperson can handle rejection and objections and you can do it during the interview.
Most interviews these days have assessments or tests for the sales person to carry out.
But few will test their ability to deal with rejection and talk through objections.
Here's a way you can test their skills in this important area.
At the end of the interview, make the point that you have seen a number of candidates with similar attributes and experience to theirs, and you will probably be choosing someone with more industry experience than they have.
Their response should tell you how they would deal with an objection in the real world of sales.
Imagine if they just said something like, "OK, well, thanks for the opportunity, it was good to meet you".
It proves they have resigned themselves to the fact they weren't good enough and haven't got the initiative to turn the situation around.
Remember, the interview is a great chance for the person to 'sell' themselves and they themselves are the service they are offering.
If they just give up and don't ask any questions to determine what they could do to possibly change your mind, they have given you an insight into how they deal with rejection and objections.
Now, imagine instead if they said something like this:
"Well, that's disappointing to hear. Maybe you could tell me what skills these others have so I can see if I can match or beat them. After all, this is a sales interview, and I want to be able to prove I can sell myself!"
Now that's the kind of attitude you want to hear!
You want to ascertain how they would handle a rejection and they are doing just that, in an attempt to turn the situation around and change your mind.
If you can check on the person's abilities during the interview, you can see right from the outset how this person would deal with specific situations out in the field.
That will give you an insight into how they would drive sales when they are under similar pressure to perform with real prospects.
Handling interview situations like this will enable you to see firsthand what kind of character your interviewees possess.
Try it out and see if it separates the wheat from the chaff!
Happy Selling!
Sean

Sean McPheat
Managing Director
MTD Sales Training | Image courtesy of Big Stock Photo