Call Yourself A Sales Professional?
Posted on Have Your Say: Leave a comment?
There are hundreds, no thousands of people roaming the streets today and calling themselves sales professionals!
And yes, don't get me wrong there are some out there but in all of my travels around the world and having come into contact, trained and witnessed literally thousands of sales people in action, there are a lot of sales professionals who would be done under the trades description act if they indeed did call themselves a sales pro!
I really think there are some defining factors that make it easy to tell the difference between a "salesman" and an incredible "sales professional."
So how can you tell an amateur from a professional?
Here are 10 thoughts to get the ball rolling:
1. Amateurs are nothing but order takers. They don't actually HAVE to sell.
2. A sales professional has clear objectives and knows what outcome they want to achieve at each stage of the sales process.
3. Amateurs "wing it"
4. A sales professional has a plan and a proven method for success
5. True sales professionals are always well prepared for any situation. They can adapt their presentation at a moments notice and still achieve their goals
6. Sales professionals are viewed by their clients as trusted advisors
7. Amateurs talk too much
8. Amateurs think about the commission more than the need to help the next prospect
9. Sales professionals analyse their numbers, understand their numbers and refine and modify
their approach
10. Amateurs don't listen to sales improvement cd's or improve their knowledge
So, how many of those do you do?
Are you a pro?
Or are you "The diet coke of sales professionals?"
Happy Selling!
Sean
Sean McPheat
MTD Sales Blog
MTD Sales Training
Telephone: 0800 849 6732
Have you downloaded my latest report yet? "The Sales Person's Crisis" has been downloaded by over 10,000 sales pros and entrepreneurs. Don't miss this unique report that lifts the lid on modern day selling!
Click on the image below to find out why you're very existence as a sales person is in doubt…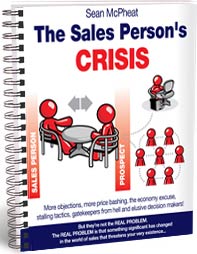 This entry was posted in Sales Tools, uncategorized and tagged sales amateur, sales profession, sales professionals. Bookmark the permalink.