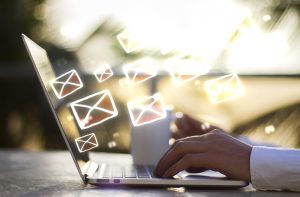 So many sales professionals ask us to assist them in writing emails to their prospects that we sometimes think we should devote all our time and attention to this one area!
It's natural to want to contact prospects and show them how your world-changing products can make them successful.
Why wouldn't a prospect want your stunning range of products to make them incredible profits or enjoy life to the full?
So, why won't they reply to your emails?
Well, to state the obvious, not every prospect will want what you have at this moment in time.
They have their own business to take care of, and an email from you trying to sell them your services isn't always going to make them drop everything and beat a path to your door.
So, what's the best way to follow up after an initial contact?
Be professional and make it worth their while contacting you back.
Here's an example:
Hi Mr Prospect,
Thanks for taking my phone call (or for the meeting) today, and I enjoyed learning about your role at (company name).
I understand the challenges you are facing with (whatever it was) and the effect they are having on your business.
As we discussed, I have attached a link to the resources and materials that can help you better understand how we can help you solve (those specific challenges).
Please let me know if you have any questions.
Otherwise, I look forward to talking with you again on (date and time).
Many thanks
It allows the person to contact you if desired, and gets them to see the benefits of your services through the link to your resources.
How about if there's still no response?
Keep on adding value to each follow-up, so the prospect can see what they are missing by not replying to you.
Another example:
Hi Mr Prospect
I am calling (writing) to find out which of the Seven Ways to Maintain Staff Morale (or whatever content you sent during your first follow up) was most useful to you.
Most of my clients have found numbers four and five to be very effective.
I have also attached a copy of our latest report on Dealing With Absences. I know you'll find it interesting.
I'd like to find out your opinions on the ideas discussed.
Give me a call back to schedule at (phone number) or send me an email at (email address).
I'll make a note in my diary to catch up with you again if I don't hear from you.
Thanks in anticipation
You'll see hear that you have increased the value of the prospect dealing with you.
You've added another free report or piece of information and have offered a chance for them to contact you, or for you to follow up again.
But what if you've had no response at all.
Should you give up?
Well, try connecting in some other way before dropping this prospect.
They may respond on LinkedIn rather than on email, or maybe through some other social media process.
It's possible your emails have gone into their spam folder, so another avenue of contact may get through.
What should you do if you've continually got no response from a prospect that you thought was a shoeing for a meeting?
One last attempt could be made with a 'break-up' email.
This is simply a message saying thanks for their interest, but you won't be contacting them anymore, unless they contact you through email or phone.
This allows them that last chance to improve profits or productivity or save money or whatever your services offer their business.
With no further response from them, you can move onto businesses that would really benefit from your services.
So, be professional in your follow-ups, offer added-value at every step and work on improving your email connection at every step.
Happy Selling!
Sean

Sean McPheat
Managing Director
MTD Sales Training | Image courtesy of Big Stock Photo